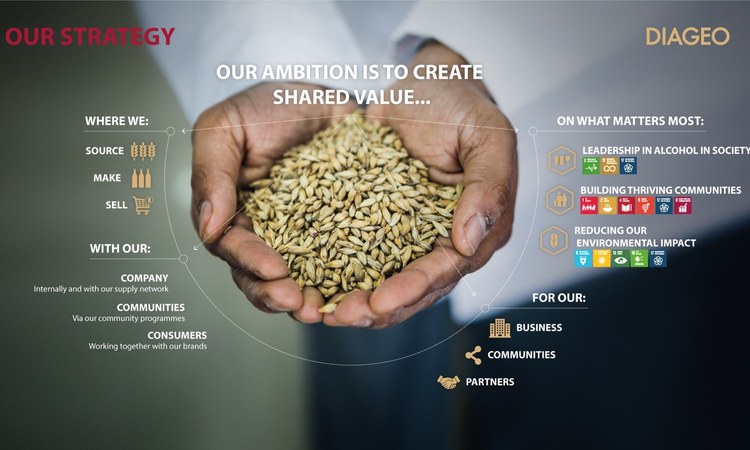 Our Strategy
Do you care about creating a world where the products and brands we choose are truly sustainable? Do you have an idea for an innovation that could make a difference – now? Would you benefit from skills and resources to accelerate your innovation?
Diageo Sustainable Solutions
The programme is calling upon innovators to share their ideas and solutions for growing brands and businesses sustainably. Born from our passion and experience in brewing and distilling, we want to advance more sustainable technologies and practices across the full lifecycle of our brands and from grain to glass. We want to welcome new thinking and try new concepts to advance a world that protects and nurtures our natural resources. By sharing some of the sustainability challenges we are facing through our supply chain, we are asking innovators across the world to consider how they can collaborate with us to make a bigger impact.
We are excited by the changes we could cause together and want this to be the start of an exciting future. So we want to hear about your ideas. Whether you have a disruptive solution ready to pilot or innovative technology you believe could apply to our industry, we are keen to hear from you – wherever you are based.
We will invest our time and experience, sharing our resources and assets where relevant, and fully funding proof of concept pilots that we select from the breakthrough innovations. We look forward to embracing tomorrow's sustainable practices today… and inspiring a more sustainable world together.
Our Challenges
Third Round

We have just launched our third round of challenges, three agriculture-focused challenges aimed at finding solutions to further support our smallholder farmers who are critical to many of our product supply chains. These challenges are open to world-class innovators to work with us to strengthen our agriculture supply chain through targeted approaches to soil moisture, soil biodiversity and soil carbon.
Second Round

Our second round of challenges, launched in November 2021, focused on finding technologies that can help our packaging become more sustainable. This is critical to supporting the sustainable growth of our brands. The window for applications to round 2 is now closed and we are currently finalizing the pilot scope for the selected Innovations. We will announce further details of these exciting pilots here shortly.
First Round
In 2020, our first round of challenges received around 300 applications across our first four challenges within the few weeks that the application window was open.